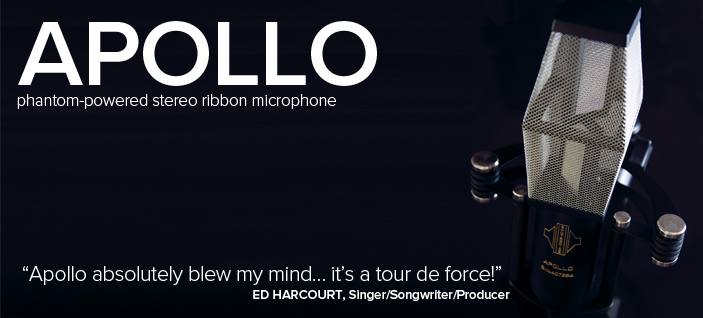 SONTRONICS APOLLO stereo ribbon microphone
Our APOLLO ribbon microphone is one of the most natural-sounding, smooth, open microphones on the market, and will give you outstanding classy results for any overhead or room recording.
A while after launching our SIGMA ribbon microphone, we found out that many musicians were using them in stereo pairs with fantastic results, and so we decided to make a dedicated stereo ribbon microphone. The APOLLO features two ribbon motors each with a highly sensitive, micron-thin aluminium ribbon element, set in classic Blumlein X-Y formation within the angled open grille cage whose design was inspired by the silhouette of a skyscraper!

"I couldn't quite believe it when I first heard the APOLLO on my piano, it's truly stunning! I also use it as room mic, which has totally transformed my recordings.
I can't really believe I didn't think of getting one before"
BEN CHRISTOPHERS, Artist/Songwriter/Producer

Thanks to its phantom-powered operation and incredibly low self-noise, the Sontronics APOLLO captures every detail of your recording with a super-realistic smooth tone.
APOLLO encapsulates everything that users love about theSIGMA, multiplied by two, but with a wider, more open sound picture, making it ideal for orchestral, choral and piano recordings.
Thanks to APOLLO's two-way cable, it is possible to isolate one or other of the ribbons so you can use the microphone in mono mode if you wish, although our dedicated SIGMA andDELTA ribbon mics would be the first choice for mono ribbon miking applications.
It really is simple to use and get the best results from the APOLLO, whether using for overhead and piano recording or even for instruments and guitar amps. However, care should be taken as the ribbon elements are delicate and can stretch or even disintegrate if subjected to extraordinarily strong sound pressure levels. Always position the APOLLO with care and check out our User Guide for some top tips on getting the most from your microphone.

"I'm enormously impressed by this fantastic microphone. I've never encountered a mic in the live field that matches APOLLO for tonality, pickup and beautiful clarity"
BARRY BARTLETT, Audio Designer/Engineer, Glyndebourne Opera

Sontronics APOLLO has already found its way into some incredible recording spaces and sound stages. It is used for overhead orchestral recording at the world-famous Glyndebourne Opera, whose technicians found that when placed over the orchestra pit, the APOLLO could even capture the sound of the conductor turning the page of his score!
And we're proud to say that the engineers at Abbey Road Studios have fallen in love with the APOLLO; they make use of the microphone on a daily basis in Studio 1, either on their beautiful Steinway grand piano or overhead for choral and orchestral recordings... you can hear APOLLO in action on many a Hollywood film score.


"The APOLLO absolutely blew my mind. I used it as a piano overhead and it just sounded so lush and skily and big, even from a good distance. I really feel the possibilities are endless with APOLLO. It's beautiful!"
ED HARCOURT, Singer/Songwriter/Producer

APOLLO uses the same shockmount design that is unique to all our ribbon microphones (APOLLO, SIGMA and DELTA) providing isolation from noise and vibrations transmitted through the mic stand or ceiling suspension. The microphone and its shockmount are supplied in a sturdy aluminium flightcase.
The APOLLO, like all our microphones, is covered by our no-nonsense Sontronics LIFETIME WARRANTY.
Try APOLLO today… a microphone that hears the way you do!
APOLLO HIGHLIGHTS
• phantom-powered stereo ribbon microphone
• two ribbon motors fixed in X-Y Blumlein formation
• stunning open, natural sound
• used at Abbey Road on a daily basis for piano and orchestral recordings
• LIFETIME WARRANTY

RECOMMENDED FOR…
• overhead and room miking
• vocal/choral ensemble & opera
• chamber and orchestral work
• piano
• drumkit & percussion overhead
• acoustic guitar



APOLLO SPECIFICATIONS
Frequency response: 20Hz - 18kHz
Sensitivity: 18mV/Pa -33dB ±1dB
(0dB = 1V/Pa @ 1,000Hz)
Polar pattern: Figure-of-eight (x2)
Impedance: ≤150 Ohms
Equivalent noise level:12dB
(A-weighted)
Max SPL (for 0.5% THD @ 1kHz): 125dB
Power: Phantom power 48V required
Connector: 8-pin connector to two 3-pin XLR connectors (cable supplied)
Dimensions: 260 x 65 x 65mm
Weight: 744g (1247g with shockmount)
Comes with: stereo to two XLR connector cable, shockmount, aluminium flightcase