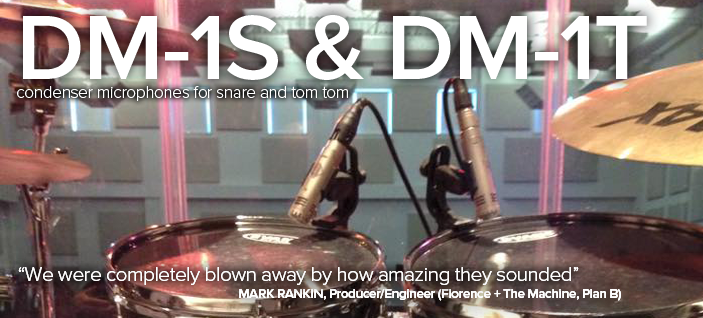 SONTRONICS DM-1S condenser mic for snare
and SONTRONICS DM-1T condenser mic for tom tom
Representing three years of research, design and development alongside professional drummers and producers, the Sontronics DM-1S and DM-1T have been specifically created to capture all the characteristics of your snare and tom tomrespectively.
Together with our DM-1B condenser mic for kick drum, the DM-1S and DM-1T give you everything you need to get exceptional results from your drumkit or individual drums, both live and in the studio.

"We were using the DM-1S and another mic (that
costs ten times more) and we had to keep checking
the patching because we thought the DM-1S was the thousand-pound mic. It is just incredible!"
MARK RANKIN, Producer (Florence + The Machine, Plan B, Friendly Fries)

The DM-1S and DM-1T are small-diaphragm condenser mics, each with a -10dB attenuation pad and each capable of capturing up to an impressive 135db SPL.
They are designed to capture all the classic characteristics of your drum - the snap, crack and rattle of your snare and the slap, boom and resonance of your tom tom. The two microphones have slightly different frequency response and capture to get exceptional results, both live and in the studio..

"I'm so impressed by the sound of these mics for all my studio and live performances in all genres (rock, jazz, world music), I rely on these mics. Just amazing."
MARITO MARQUES, Drummer/Producer


Both mics are supplied with a mic clip and also a basic mounting arm to allow you to quickly get set up and attach the mic to the rim of your snare or tom drum. However, most engineers or producers will use individual mic stands to get the mics as close as possible to your drum head.
The DM-1S is ideal for kit snare and orchestral snare drum, but users have told us that they also give incredible results on cajón, djembe and doumbek. Similarly, while DM-1T is designed for rack and floor toms, it also gives a brilliant sound on your bongos, djembe, tabla and congas.
Like all our microphones, our DM-1S and DM-1T are covered by our unique Sontronics LIFETIME WARRANTY.
DM-1S & DM-1T HIGHLIGHTS
• cardioid condenser mics
• designed specifically for snare drum and tom tom
• also great for other percussion
• supplied with mic clip and rim-mounting arm
• covered by LIFETIME WARRANTY


RECOMMENDED FOR…
• DM-1S: snare drum (plus cajón, djembe and doumbek)
• DM-1T: rack toms and floor toms (plus djembe, bongos, tabla
and congas)


DM-1S & 1T SPECIFICATIONS
Polar pattern: Cardioid
Pad: 0dB, -10dB
Frequency response: 30Hz - 20kHz
Sensitivity: 8mV/Pa -42dB ±2dB
(0dB = 1V/Pa @ 1,000Hz)
Impedance: ≤200 Ohms
Equivalent noise level:14dB
(A-weighted)
Max. SPL (for 0.5% THD @ 1,000Hz):
135dB (with -10dB pad switched in)
Power: Phantom power 48Vrequired
Connector: 3-pin XLR
Dimensions: 91 x 22 x 22mm
Weight: 86g
Comes with: mic clip, mounting arm


DM-1S at Red Bull Studios, London