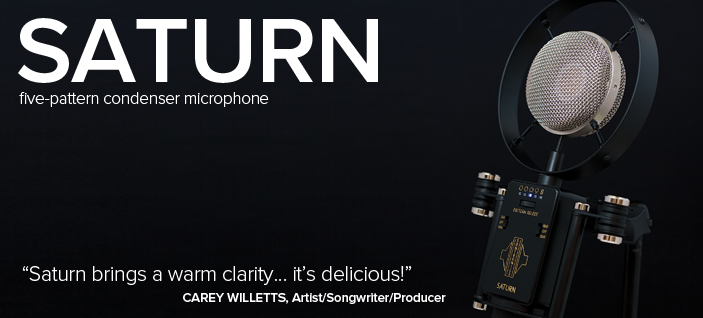 SONTRONICS SATURN multi-pattern condenser mic
The Sontronics SATURN is a hugely versatile, incredible sounding condenser microphone with five polar patterns. Since its launch in 2010, SATURN has become an indispensable all-rounder for any studio.
Developed with the help of top producers and musicians, including the legendary Flood and Alan Moulder, SontronicsSATURN has been designed to give perfectly detailed, refined results, no matter what source you put it in front of.

"SATURN is my go-to mic at the moment. It is so versatile and incredibly detailed and clear but without getting too bright. It really does sound good on everything.
ED HARCOURT, Songwriter/Producer

SATURN began life as a simple vocal microphone, but during early tests with producer Flood (U2, Nine Inch Nails, The Foals, Editors) who was trying out the mic with everything around the studio, it became clear that SATURN had the potential to outperform many other mics on plenty more sources.
The final incarnation of SATURN that you see today has five polar patterns – the regular omnidirectional, cardioid and figure-of-eight plus the extra subcardioid and hypercardioid – plus variable attenuation (0, -10dB, -20dB) and filter (linear, 75Hz, 125Hz) controls for total flexibility.


"I love SATURN on vocals – it brings a warm clarity that I just can't get with a U87. The SATURN just sit perfectly without the need for extra EQ after the fact. The way SATURN looks is a massive positive. If they say the first bite is with the eye, then the SATURN is delicious!"
CAREY WILLETTS, Musician/Producer


The combination of all these controls lends the SATURNenormous versatility and therefore the ability to give fantastic results on vocals, spoken word, guitars, brass, woodwind, strings, piano, drums, ethnic instruments, ensembles, overhead, room miking… the list goes on!
The retro-styled SATURN, whose design was inspired by classic vocal mics of the 1940s and '50s, really does set a new standard in high-grade audio reproduction and flexible microphone performance. It captures all sources accurately and sympathetically, and its realistic, natural results will sit almost invisibly in any mix (digital or analogue), allowing you to be creative in the mix or leave it real. The only limit to SATURN is your imagination!


"SATURN really is a top piece of kit. No EQ necessary, it dealt with all the dynamics excellently and sounded really open and present without sounding treated"
PAUL STAVELEY O'DUFFY, Producer/Composer


The Sontronics SATURN comes with our unique shockmount, designed to isolate the mic from any noise or vibrations that might be transmitted through the mcirophone stand. The mic is supplied with its shockmount in a sturdy aluminium flightcase.
The SATURN, like all our mics, is protected by our LIFETIME WARRANTY.
Contact your local Sontronics stockist today to try out a SATURN for yourself… once you've got a SATURN in your set-up, you'll wonder why you need any other microphones!
SATURN HIGHLIGHTS
• five-pattern condenser microphone
• road-tested by producers Flood and Alan Moulder
• 3-stage pad and filter controls
• unusually warm valve-like sound
• detailed, natural results that sit perfectly in the mix
• unique Sontronics shockmount
• LIFETIME WARRANTY


RECOMMENDED FOR…
• vocals (sung and spoken)
• backing & group vocals
• acoustic guitar & guitar amps
• solo strings, woodwind & brass
• instrument ensembles & full band
• percussion, solo drums & drumkit
• overhead & room miking
• foley & sound effects
• stage & video production


SATURN SPECIFICATIONS
Polar patterns:Omnidirectional, subcardioid, cardioid, hypercardioid, figure-of-eight
Filter: Linear, 75Hz, 125Hz
Pad: 0, -10dB, -20dB
Frequency response: 20Hz - 20kHz
Sensitivity: 20mV/Pa -32dB ±1dB
(0dB = 1V/Pa @ 1,000Hz)
Impedance: ≤200 Ohms
Equivalent noise level:14dB (A-weighted)
Max SPL (for 0.5% THD @ 1kHz): 130dB
Power: Phantom power 48V required
Connector: 3-pin XLR
Weight: 673g (1176g with shockmount)
Dimensions: 164 x 50 x 32mm
Comes with: shockmount, flightcase

Evelyn Ruzicka with Sontronics SATURN