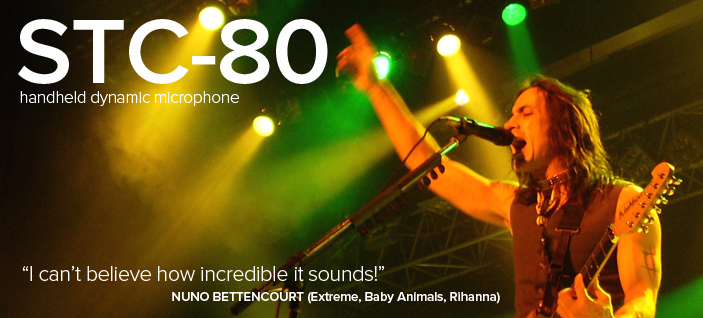 SONTRONICS STC-80 handheld dynamic microphone
The Sontronics STC-80 is a dynamic microphone that outclasses the competition, belies its modest price tag and will allow you to focus on capturing your best vocal performances, every time!
The STC-80 was developed back in 2008 in response to many Sontronics users requesting a good quality but thoughtfully designed dynamic mic to complement our ever-growing collection of studio condenser mics.


"The STC-80 sounds bright, crisp and clearer than an SM58 and without needing EQ. I always use STC-80s
for live vocals now, and while it might take some singers by surprise, once they hear it, they're convinced too"
JIM HORWOOD, Producer/Engineer

Sontronics' founder and designer Trevor Coley set about creating something that would stand out in a crowded live mic marketplace… not an easy task.
"I wanted to create something reliable, solidly built and affordable," explains Coley, "but also a mic that would stand up to the demands of live musicians, engineers and technicians."
After a great deal of research and experimentation, the STC-80 was born… a mic that sounds bright, crisp and clear and that works perfectly straight out of the box (an aluminium flightcase) without any need to fiddle with EQ or sound levels (unlike some other industry 'standard' live mics).


"If someone told me they had a live vocal mic that
sounds as warm and clear as a vintage classic and
that I can get it loud on stage over my band's blistering volume with no EQ, I'd laugh and tell them that mic doesn't exist. Then I tried the STC-80 and I did laugh…
at how incredible it sounded!"
NUNO BETTENCOURT, Artist/Producer (Extreme, Baby Animals, Rihanna)

The Sontronics STC-80 features specially honed electronics and a dynamic coil element housed inside a rugged black body (made from a special brass alloy for its particular resonant qualities) with ergonomic anti-slip grooves as found on ourSTC-6 handheld condenser mic.
With superb response, excellent clarity and super-low handling noise, STC-80 has been engineered to give fantastic results on sung vocals and speech (we're told it's brilliant for MCing and rapping too), both live and in the studio. It is equally impressive on plucked instruments such as banjo and balalaika, harmonica, snare drums, toms and guitar amps (if you're after a mic specifically designed for guitar cabs, check out our Sontronics HALO).

"The STC-80 is characterised with a very open sound
and it blows the old SM57 out of the water on guitar amps and snare drum. We don't use anything else now"
LUCA MARTELLO, Producer/Engineer/Artist


The STC-80 comes in a sturdy aluminium flightcase with a mic clip for ultimate protection while on the road. If you're looking for a quality mic that delivers crowd-beating results, loves life on the road and won't break the bank, look no further than Sontronics STC-80!
Sontronics STC-80 is protected by our LIFETIME WARRANTY.